Montana is at a crossroads of new opportunities in water management and administration. We need to protect existing uses while still ensuring reliable supplies for growing communities and economies. The Comprehensive Water Review is the evaluation and reformation of state water administration undertaken by the Department to meet future water needs and protect existing users in the state of Montana. 
Meaningful Change is Already Happening.
Stakeholder Working Groups representing a diverse array of water users are leading the conversation and providing recommendations for action. Over the last year, Stakeholder Working Groups have tackled challenging water quantity issues through constructive and deliberative dialog, ensuring that water issues are comprehensively addressed. Two pieces of proposed legislation for the 2023 Legislative Session are one of many results of the dedicated work and collaboration of the Stakeholder Working Groups.
Stakeholder Working Groups
Final Decree Transition
John Bloomquist, WAAC, Water Attorney
Abigail Brown, WAAC, Water Attorney
Krista Lee Evans, Agriculture
Peter Fritsch, Water Commissioner
Andrew Gorder, Conservation/Water Attorney
Ryan McLane, Hydropower/Water Attorney
Mike Roberts, Water Commissioner Trainer
Melissa Schlichting, Tribal
Ronda Wiggers, Development
Changes, Mitigation, & Exceptions
Pat Byorth, Conservation/Water Attorney
Pat Eller, Development/Irrigation
Krista Lee Evans, Agriculture
Abby St. Lawrence/ Cory Shaw, Development
Raylee Honeycutt, Agriculture
Ryan McLane, Hydropower/Water Attorney
Julie Merritt, Water Consultant
Deb Stephenson, Water Consultant
John Tietz, Water Attorney
John Youngberg, Agriculture
SB 72 Water Distribution & Administration After Adjudication
Senator Fitzpatrick - Bill Sponsor
Currently, there are four Water Divisions, which are collectively known as the Water Court. As the Water Court begins to issue final decrees, water stakeholders have expressed concern about water administration and a desire to clarify the role of the judiciary. This legislation, developed by the Department of Natural Resources and Conservation's Comprehensive Water Review Stakeholder Group, provides continuity between water right adjudication and administration of the final decrees. Representing significant compromise between stakeholders in the working group, this legislation defines the roles of the Montana Water Court and District Courts, preserving the knowledge and expertise of the Water Court while also providing the opportunity for localized water distribution.
This legislation preserves processes that work well, and updates inefficient processes, to meet Montana's future water challenges.
HB 114 Permit and Change Process Overhaul
Representative Vinton - Bill Sponsor
Water stakeholders frequently remark that the water permit and change process through the Department of Natural Resources and Conservation (DNRC) Water Resources Division is not timely, transparent, streamlined, or consistent. A new permit can take several years to issue. Stakeholders have expressed that permitting inefficiencies increase costs and incentivize alternative avenues of water acquisition, including illegal water use. Responding to these concerns, the DNRC Comprehensive Water Review Stakeholder Working group recommended an overhaul to the permit and change process in this proposed legislation.
CWR Proposed Legislation Overview
Learn more about the Stakeholder Working Group process and the collaborative efforts behind SB 72 and HB 114 Water Division Administrator Anna Pakenham-Stevenson and Lieutenant Governor Kristen Juras along with members of the Stakeholder Working Groups.
Key Challenges of the Comprehensive Water Review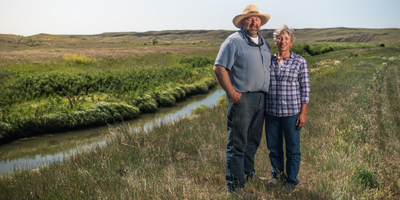 Stakeholder Engagement, Outreach, and Education
Consistent and proactive water education and outreach activities are necessary to provide a foundation for the informed management of Montana's water resources now and into the future.
Comprehensive Water Review Background
After nearly 50 years of implementation and targeted adjustments, the Water Use Act and associated regulations and policies need a comprehensive review to ensure that water administration and management is serving the current and future water needs of Montana. Benefits of this review include streamlined and consistent administrative processes, improved customer service, responsible and innovative development, and efficient administration of Montana's water resources. The results of this effort must also uphold the core principles of the Water Use Act for current and future water appropriators. This review of water right administration and management requires significant stakeholder input and a comprehensive look so that Montana can meet its water needs of the 21st Century.