Elmo Events Center
Located on the western shore of Flathead Lake, this group site has direct lake access for fishing, swimming, and paddle boarding.  There are up to 40 campsites for RV's or tents.  This property is the perfect spot for rustic weddings, family or class reunions, and retreats.
Use of the Elmo Events Center for groups or events requires a Special Recreational Use License (SRUL).  The application includes a non-refundable $25 fee.  For more information about the property or to check availability, contact Ken Hendrix at our Kalispell Unit Office or call 406-751-2393.
Pricing and certain terms are based on the size of the event. 
1-50 People
51-120 People
121-200 People
201+

$250.00/Day

10 Spots

Each additional spot is $20

 Deposit $100

 

$350.00/Day

25 Spots

Each additional spot is $20

 Deposit $150

 

$500.00/Day

40 Spots

Each additional spot is $20

Deposit $300

 

For groups over 200 people or for special day use events, pricing will be determined upon application based on scope and impacts of planned event. 

 
Located between Lakeside and Polson on the western shore of Flathead Lake.
The Elmo Events property is located on Flathead Lake with direct lake access for fishing, swimming, and paddle boarding. The property is also adjacent to a public boat launch. 
Amenities include up to 40 primitive campsites, one outhouse with two pit toilets, and a lake-side fire ring.  
Additional portable toilets are required for more than 10 occupied sites. 
Group use of the Elmo Events Center is authorized through a Special Recreational Use License (SRUL).  Full terms of use are within the SRUL, including terms that are specific to the scope and impacts of a proposed event.  General terms for all SRULs include:  
Comprehensive general liability insurance is required for all events.  Insurance must list the State of Montana as additionally insured.  Required minimum limit is $1,00,000 per occurrence.
Campfires are allowed only at the designated fire ring located by lake. 
One toilet is required for every 10 occupied sites at the event.  The facility provides two pit toilets.  Camper toilets are considered. 
Licensee must patrol for and removed any event signage and litter/debris within the license area prior to vacating the site.
Group use at the Elmo Events Center is not exclusive.  A licensee may not discourage the lawful recreational use by the public as permitted by statute and administrative rule. 
Werner Peak Lookout Tower
Werner Peak is Fully Booked for the 2023 Season.
(July 7 - July 31, and September 1 - October 1)
Reservations for the 2024 season will open on January 2, 2024 at 8:00am.
The Werner Peak Lookout tower is seasonally available to the public for overnight use.  The available dates are released the first business day following the New Year and are booked on a first-come-first-served based.  Note:  Demand for this location is high.  The Lookout is only available to be reserved for two nights per guest per season.  
Rent is $60.00/night plus bed tax.
For more information, contact Nicole Porter at our Stillwater Unit Office or call 406-881-2371.
Werner Peak Lookout is located within Stillwater State Forest atop the Whitefish Mountain Range approximately 23 miles from the city of Whitefish.
Attractions to the site include picturesque 360-degree views of the Whitefish Mountain Range, Glacier National Park and Flathead valley. The historic Ralph Thayer Memorial Trail runs adjacent to the lookout. 
Amenities include propane cook stove, lights, heater, two single beds, basic cooking supplies and outhouse. 
There is no water available on site. Come prepared for "camp-like" conditions.  This includes bringing items such as water, coolers, gas lamps, bedding and extra blankets, etc.
NOTE:  The Werner Peak Lookout is in a remote location. To provide this facility for rent to the
public, maintenance costs must be kept to minimum and basic cleaning and management of the
amenities (such as propane appliances) are mostly the responsibility of the parties using the facility.
Although this system has been largely successful in the past, there are no guarantees that all amenities
will be functioning or that the previous renter has performed the check-out procedures adequately. 
A Person must be 18 years or older to make a reservation. 
No occupants under the age of 10 due to safety concerns.
Maximum party size is 4 people.
Check in time is 3:00 pm & check out time is 1:00 pm.
There are no refunds for cancellations made by the guest after payment has been received; if the DNRC must cancel a reservation due to adverse conditions such as fire or public safety, a refund can be made of the lodging portion of payment.
All pets must be on a leash, kenneled, or otherwise under control when on state land.
Food, beverages, coolers and garbage must be stored in a bear resistant manner.
No smoking or candle use inside the lookout.
No RV use at the site. 
Bring your own bedding, cook supplies, and water (there is no water source on site).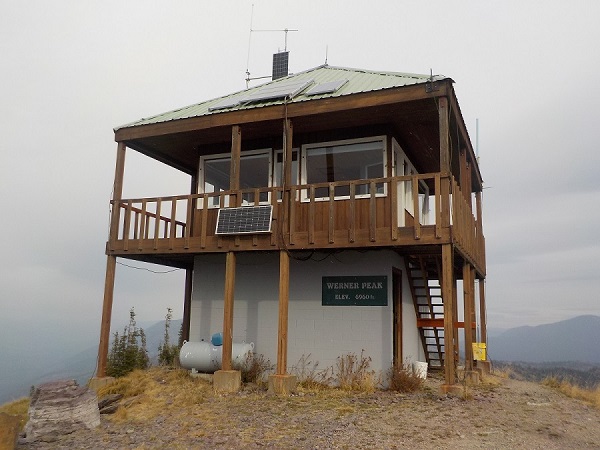 Werner Peak Photos by Nicole Porter, DNRC Forester