Drought Conditions Improve Following Two Years of Extreme Drought; Much of Montana Still Abnormally Dry
---
April 17 2023
HELENA, Mont. –  While much of the state, particularly northcentral Montana, is entering the third year of drought, conditions are dramatically improved from one year ago according to the 2023 Montana Water Supply Outlook Report.  
According to the report, 42 percent of the state is classified in moderate to severe drought, with another 29 percent showing abnormally dry conditions. 
"The wetter and cooler than average fall and winter offer a good indication that drought conditions may continue to improve in the coming months," said Michael Downey, Drought Program Coordinator with the Montana Department of Natural Resources and Conservation. "With cooler temperatures prevailing through March and into early April, many parts of Montana are still holding snow, which has the potential to improve soil moisture and surface water storage."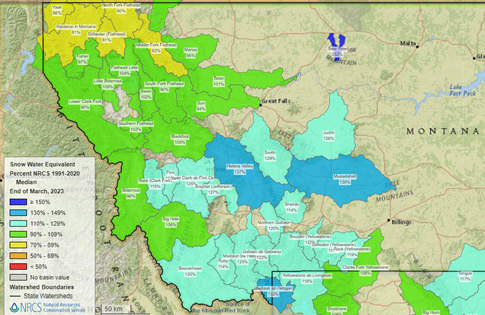 Average to above average precipitation and colder temperatures have created near record snowpack conditions in parts of western and southwest Montana. Conditions in the northwest remain concerning, however, with snowpack currently below average. 
"The current streamflow forecast for much of the state is better than we have seen for quite some time, and this winter's snowpack will provide ample runoff this spring and early summer," said Downey.  
Downey cautions that Montanans should continue to keep a close eye on short-term weather patterns, as prolonged warm and sunny conditions could release a substantial amount of water in a short time, resulting in local and potentially regional flooding.  
As detailed in the report, current drought conditions across Montana are the result of three years of above average temperatures and below average precipitation. While the drought in the early 2000s lasted longer, the current drought is the most severe that Montana has experienced in more than 20 years.  
The Montana Water Supply Outlook Report is an annual report compiled by water planning staff at the Montana Department of Natural Resources and Conservation. The 2023 report is available online at https://dnrc.mt.gov/Water-Resources/Water-Planning-Implementation-and-Coordination/Drought-Plan-and-Management/Water-Supply-Outlook-Spring-2023.pdf. 
### 
About the Governor's Drought and Water Supply Advisory Committee: The Governor's Drought Advisory Committee is chaired by the Montana Dept. of Natural Resources and Conservation Director (Amanda Kaster) and consists of representatives from the departments of Natural Resources and Conservation; Agriculture; Commerce; Fish, Wildlife, and Parks; Military Affairs; Environmental Quality; and Livestock. Its responsibilities include developing a state drought management plan, performing monthly water supply assessments, reporting on local impacts, identifying mitigation strategies, and directing financial, technical, and human resources to assist in regional and local drought management efforts. (MCA § 2-15-3308). The Montana Water Supply Outlook Report provides a synopsis of recent statewide precipitation and temperature trends, snowpack information, an outlook for spring and early summer water supplies and an update on current drought conditions. Data provided was gleaned from multiple sources and offers links to additional resources with more in-depth information. This report was developed pursuant to MCA 2-15-3308(5). 
Tags: