If you are planning to do work on or near a waterway in Montana, one or several permits may be required. Conservation districts, along with participating agencies, created a Joint Application Form (see below) to help reduce the number of application forms that you need to complete to get your permits. We hope that in addition to reducing paperwork, the use of the form will increase coordination and streamline the permitting process. For detailed instructions on stream permitting please read the Stream Permitting Book.
310 Law
The Natural Streambed and Land Preservation Act, also known as "The 310 Law" is administered by the Conservation Districts.  
The purpose of the 310 law is to keep rivers and streams in as natural or existing condition as possible, to minimize sedimentation and to recognize beneficial uses. Any individual or corporation proposing construction in a perennial stream must apply for a 310 permit through the local conservation district.
For more information on using the 310 Permitting Database click here:
For contact information to your local Conservation District click here:
Apply for Permits
Joint Application Form
This form can be used for the following permits:
Conservation District (local government) - 310 permits
MT Fish, Wildlife and Parks (state government) - SP 124 permits
County Floodplain Administrators (local government) - floodplain permits
US Army Corps of Engineers (federal government) - Section 404/Section 10 permits
MT Department of Environmental Quality (state government) - 318 (turbidity) Authorizations
MT Department of Natural Resource and Conservation (state government) - Navigable river land use licenses and easements
What permits do I need?
Using the diagram below, determine where your project will take place: streambed, streambanks, wetlands, or floodplain. The letters in the diagram refer to the required permits listed below (A through L) and described below.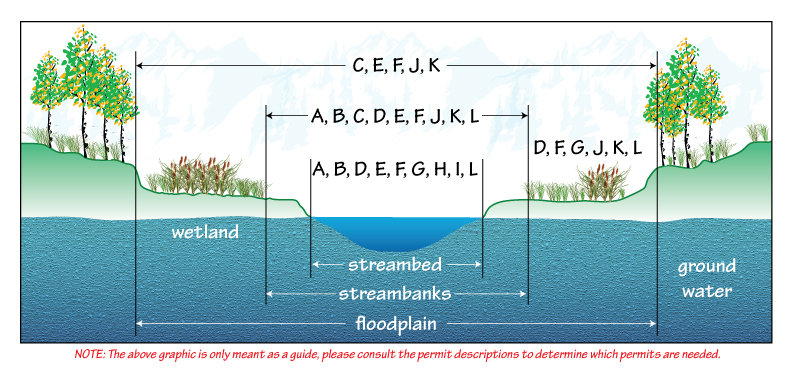 Contact us
Questions on 310 Law?
Contact information

Hailey Graf

Stream Permitting Coordinator
406-437-4435
Hailey.Graf@mt.gov
Questions on other permits?
The tables above provide contact information for each permitting agency.