DNRC Area and Unit Offices
For questions or more information about recreational use of state land, please contact your local DNRC office.  DNRC has six Land Offices that include fifteen Unit Offices.   Below is a map illustrating Land Office boundaries, and phone numbers and addresses for each office follow.  The contact information for each Unit Office will also link to a map of the specific Unit boundary.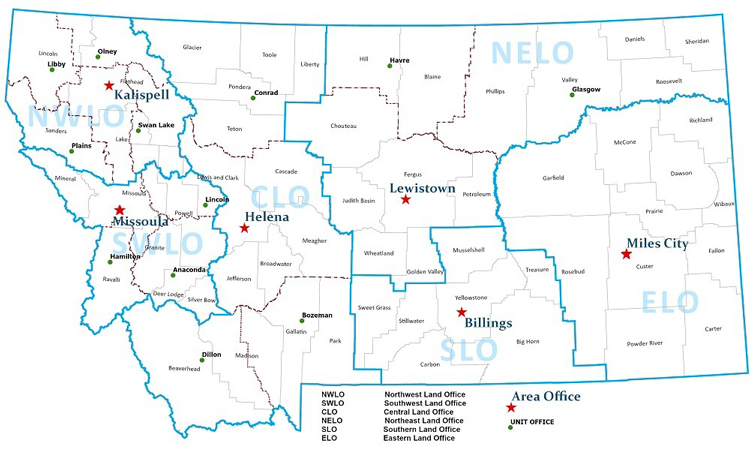 Northwestern Land Office (NWLO)
655 Timberwolf Parkway, Suite 1 Kalispell, MT 59901
406-751-2240
Southwestern Land Office (SWLO)
1401 27th Ave.
Missoula, MT 59804
406-542-4200
Central Land Office (CLO)
8001 N. Montana Ave.
Helena, MT 59602
406-458-3500
Northeastern Land Office (NELO)
613 N. E. Main Street
Lewistown, MT 59457
406-538-7789
Lewistown Unit Office
613 N. E. Main St. PO Box 1021
Lewistown, MT 59457
406-538-7789
Havre Field Office of the Lewiston Unit
210 6th Ave PO Box 868
Havre, MT 59501
406-265-5236
Glasgow Unit Office
224 6th St. South PO Box 1007
Glasgow, MT 59230
406-228-2430
Southern Land Office (SLO)
Airport Industrial Park
1317 Rimtop Drive Billings, MT 59105
406-247-4400
Eastern Land Office (ELO)
321 Main Street
406-232-2034